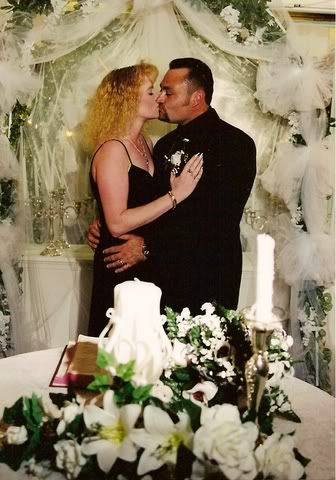 And it begins with a kiss, much like the actual courtship. My wife and I were friends long before we were lovers. We hung out a lot, having similar interests, but neither of us were looking for a relationship, having both survived nasty breakups and subsequent divorces. We would go dancing, check out movies, hit the karaoke bars and just generally tear up the town. She was my wingman as it were, complete with all the duties that title usually entails and I hers.
We even had a notion that we would be roommates and share a nice apartment for a while. I needed a roommate, but let's face it most guys are slobs and I like a clean neat home to live in so the idea of sharing space with any of my male friends (of which, I only had a few as most of my friends have always been of the fairer sex) was extremely unappealing. She also needed a roommate and since we already spent so much time together anyway, it seemed like a good fit. We set the plan in motion and started making arrangements as I waited for the lease on my house to expire.
Then it happened. We were out dancing one evening and something sparked between us. I couldn't help myself, I kissed her and she returned the kiss eagerly. We decided to leave the club early, actually within a few minutes of the kiss. The next day, I tossed my little black book in the trash and I haven't dated another woman since. We dated for nearly six months before she asked me to marry her. I told her I could think of no one I'd rather spend the rest of my life with.
We were in the process of buying a home and had just decided on the one we still live in today. On the day we signed the papers, I made the engagement official on bended knee with ring extended in the bare expanse of our new living room.
As we'd both been married before, we decided on a small ceremony… very small. We flew out to Vegas and had the wedding in The Little White Wedding Chapel. It was just the two of us, even our witnesses worked at the chapel.
That was nearly seven years ago. I still feel that spark when I look at her, when I touch her, when I kiss her. Just the thought of her body pressed against mine makes me smile. Life before her seems like a hazy dream and life with her well, it has been a dream come true. I had no idea love could be like this and seems to have only grown stronger over the years. She is everything I could ask for in a friend, a wife, a lover… a soul mate.
Have we had our ups and downs? Of course we have, there is no way people could spend as much time together as we do without occasionally knocking heads, but we almost find a common ground and never go to bed angry. We are strong believers in communication. If something bothers us, no matter how minute, we discuss it. Even a small problem if left unresolved can fester into something so hideous, the fallout is far worse than the initial infraction could possibly warrant. I learned that the hard way as did my wife. We often joke that our first marriages were just training to let us no what NOT to do to keep each other happy.
As long as she is by my side, the world is my oyster…